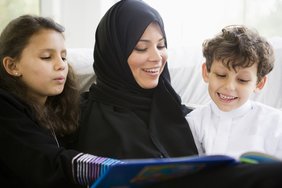 What is Parent Engagement?
There are many different types of parent engagement. Parents contribute to their children's learning at home, school and board:
At home, parents create the conditions to support student learning (e.g. read to their children, talk about school and help with homework).
At school, parents participate in parent-teacher dialogues, volunteer in the school and on school trips, and participate on school councils.
At the board, parents provide advice on parent engagement and communicating with parents as members of the Parent Involvement Committee (PIC) such as PIAC.
---
​Importance of Parent Engagement

Parent engagement matters. Study after study has shown us that student achievement improves when parents play an active role in their children's education, and that good schools become even better schools when parents are involved. It is recognized that parent engagement is a key factor in the enhancement of student achievement and well-being.

Students are more likely to be motivated, to earn higher grades, to have better behaviour and social skills, and to continue their education to a higher level when their parents are actively engaged in supporting their success at school.

To make it easier for parents to get involved, government funding is available to encourage parent involvement. Find out more at: Parents Reaching Out Grants

.

Advocacy

There are many ways to advocate for students to close the achievement gap. Special Education is one area. TDSB Parents' Guide to Special Education.

Click on the YouTube link below.

David Lepofsky, SEAC Chair: Special Education Update

Published on Mar 3, 2016

In Ontario, students requiring special education are guaranteed those services under the Education Act. But are school boards and the province holding up their end of the bargain? The Agenda checks in with David Lepofsky, chair of the Toronto District School Board's special education advisory committee, to discuss.

School Statement of Needs (SSON)

Every fall, all school councils give their superintendent a summary of their school/community's priorities in the event the school will be having a change in principal. Please see attached

SSON Form

.

The parent section of the School Statement of Needs document is to be developed annually in the fall by the parent representative in consultation with the school community and the trustee (when available). The superintendent will complete his/her section when it becomes known that there may be a principal vacancy. The School Statement of Needs document shall reflect needs that are specific to the school and community. Please see the attached

SSON Parent Guide

and

Template for a Letter to Parents

.

Principal / Vice Principal Selection

The Toronto District School Board includes a Parent Representative on Principal and Vice-Principal Interview Committees.

If you are interested in more information or participating, please see the

News

tab of this website for details.

School Improvement Plan (SIP)

A

School Improvement Plan

(SIP) is prepared by the principal in consultation with parents and the school community.

The SIP is submitted to the superintendent usually by the third or fourth week in October. Every school will develop, implement and monitor, based on a systematic analysis of data, a set of research-based school improvement actions that meet the needs of every student, with a particular focus on reducing the achievement gap for students or groups of students who have been identified by school data to be at risk.